SCUBA Training
Specialty Courses in California
Professional PADI Certified Dive Instructors and Dive Masters
Dive to Survive Scuba
PADI OPEN WATER SCUBA TRAINING COURSE
Our Course Includes
| | |
| --- | --- |
| Plus Academic Course Material: | Course materials can be a book for $75.00 or you may purchase an online academic course for $175.00 per person. |
| Age Requirement: | A person may learn to scuba dive as young as 12 years old. Please note that certain restriction will apply to junior scuba Divers. |
| Class Scheduling: | Please contact us so we can arrange a schedule that meets your needs. We are available weekends and night. |
| Private Classes: | Though our classes are purposely kept small to make learning much more fun and easy, we can arrange for your personal training session. An additional fee of $300.00 is applied to the price listed above. |
Discover Scuba Class – $100
Spend 2 hours getting familiar with scuba basics. Our PADI instructors will teach you the basics of water safety and how to use your fins, mask, and buoyancy control device. Prior to entering the water, your certified scuba instructor will review important equalization and mask-clearing techniques before hopping into the shallow end to supervise your swimming and breathing practice. Dive To Survive supplies all the equipment you'll need to get started! – Available to adults and children ages 10 and up.
Additional Courses: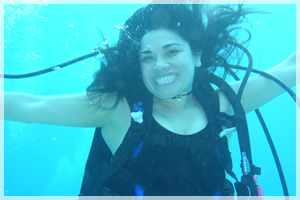 Advanced Open Water
EAN Enriched Air Nitrox
Rescue Diver
Dive Master
Specialty Courses
Master Diver
Safety Courses
Please download, read, and fully complete the required forms before class:
Advance Open Water Scuba
Advance Open Water Scuba | Day 1
$275.00 – $200.00 if you have your own gear, Plus Materials
This course is a vital step in training for all divers. During this course you will not only extend your knowledge of diving, but you will have the opportunity to experience everything you have learned. You will have a deep dive, a navigation dive as well as three other dives on topics that interest you. The course is held over one weekend, all material are home studied and there is no in classroom lecture. We just dive and learn for two days.
EAN Enriched Air Nitrox
EAN Enriched Air Nitrox
$175.00 plus materials
The certification to breath Nitrox is a must for all divers. This is a valuable tool that you will want to have in your dive bag. Extended bottom times and lower surface intervals can make diving so much more fun. Many divers use this gas simply because they feel it reduces fatigue. This course has a short classroom lecture and video prior to experiencing the use of the gas on a dive.
Rescue Diver
Rescue Diver Course
$295.00 – $220.00 if you have your own gear
By far, this is a favorite to everybody that completes this course. During this course, we take the skills that have been learned for our own benefit and realize the best way we can offer them in an emergency situation. Every diver should have some knowledge of how to help their fellow divers before, during and after an emergency situation. This course is held over one weekend and includes video, lecture, and open water diving session.
Dive Master
$800.00 or intern plus materials
This is the first step in becoming a professional diver. This course can have remarkable advantages to all those hoping to make diving a more serious part of their life. This course is constructed to cover every topic a diver needs to know in order to handle themselves professionally in the dive industry. This course is scheduled between the student and instructor to meet their schedules and usually requires over a month to complete.
Specialty Courses
$295.00
A specialty certification requires five dives in your favorite topic of diving. There are specialty courses available for deep diving, night diving, photography, navigation, dry suit and many more. Gaining professional training in a specialty that interests you is certain to allow you to enjoy that topic safely and proficiently.
Master Diver
This is the highest certification level in recreational scuba. Once you have gained certification in five different specialty topics, you are certified as a Master Diver. With this certification, other dive charters and shops will be aware of your capabilities and accomplishments as a diver, this can constitute access to higher level dive sites.
Safety Courses
Emergency First Responder Courses CPR and First Aid Courses are available. Pricing for these courses can be greatly reduced for groups, so please inquire for proper scheduling and pricing. Everybody should know how to kick start their neighbor in the event of an emergency.